Thursday, April 9th, 2009

Thursday May 9th starts at 5:03 am for me. Jesus is yelling at me to wake up. I'm a heavy sleeper, and I enjoy long slumbers. I tend to go to bed later than I should, so 5 in the morning is usually right past my first REM cycle.

It's so damn early and I'm so damn tired. It's hell. All I want to get do is get into a bus seat and pass out again. Luckily, I was packed already and all I needed to do was literally roll out of bed, put pants on, throw on a sweatshirt, pick up my bag, and walk out of the apartment. Mission accomplished.

My other two roommates had left the night before and headed to beautiful New Jersey where they were staying between, hopefully at the time, games. They were planning on meeting us at the Verizon Center before the game. Almost everyone I know who was going was getting to DC in different ways. Luckily for me and about 20 other fans we managed to get seats in the band bus, which is a treat in itself.

We get to the bus at like 5:25 and depart at about 5:33. I think I fell asleep before we even made it to the Mass Pike. Lovely.

Despite my quick pass out, I was deeply troubled that I didn't get to sit with Jesus. Since we got to the bus later than we probably should have there were only individual seats left. On almost every other bus trip to a sporting event Jesus and I have sat next to each other. It's become only natural. Not sitting next to him on this leg was unusual to say the least.

Anyways, before I knew it I was awake and in New Jersey. No, it wasn't a nightmare, and no it didn't seem like the wealthier part of the so-called "armpit of America."


We stopped at a rest stop which means two wonderful things for me: a bathroom with some leg room and Burger King Breakfast!!!!!!1!


As one of my high school friends describes it, "BK breakfast brings it hard." Ain't that the truth:


Unfortunately, the Meatnormous isn't at BK anymore
I love breakfast. But making it a BK breakfast just takes it to another level. I'm getting carried away right now and salivating far too much.
After everyone ate people start to head back to the bus. I realized that I had to drop the Cosby Kids off at the lake and didn't want to get left behind. I found Band Director Chris Parks and asked him if I have 5 minutes. He says, "to drop a deuce? Surely."
Oh BDCP, you know me too well.
Mission accomplished in the toilet and before I know it I'm back on the bus and passed out again. Lovely.
I came to to the sounds of Frank the Tank getting beaten by Dean Pritchart in Old School. He's saying I'm so cold and I'm realizing I'm so unhappy to be awake. This time I don't think I'm going to be able to fall back asleep.
Luckily, I see the BET headquarters (all black building of course) and I know I'm close to DC.
The bus is stuck in the worst type of traffic - straight gridlock without movement. It's 2:30 and Jesus and I have a trek to George Washington University ahead of us once we arrive at the bands hotel. We want to get there, relax, and leave ample time to get back to the Verizon Center for the games. We don't have much of a plan at this point since we have no idea where or how to get to GW.
After what seemed like an hour, but was probably about half of that, we make it through the gridlock and what seemed like an absolutely terrible neighborhood on the outskirts of DC, and enter the clean downtown area. We roll through Chinatown and I can see the Verizon Center. I immediately get physically aroused thinking about Frozen Four hockey.
Within minutes we pull up to the Hyatt and the band starts unloading. Jesus and I gather our stuff and call our friend who goes to GW, who we'll call Howie D. Why? Because in high school this guy performed one of the greatest renditions of the Backstreet Boys' "I Want It That Way." He drew on a SICK chin strap beard and was nearly identical to Howie D.
We hit him up and find out we have to walk about 13 blocks to GW. It's a GORGEOUS day and we're in DC so we don't mind at all.
Fast forward a half an hour and we're at the heart of George Washington University, which we quickly deemed "BU South." That would mean BU is "GW North." Seriously, the similarities are scary, and the schools are so similar - down to the price.
Anyways, we meet Howie D and head to his apartment in a building called New Hall. When we walk in we smell a stench that seems like wet dog, we see maintenance workers tearing apart the kitchen, and more of them in Howie's bathroom, some of whom are literally in the ceiling. Apparently there was a big time leak in the building and the place that go hit the hardest was Howie's 7th floor apartment, which he rightfully named "The Slaughterhouse." That's what I'm going to have to refer to it as from now on.
After unloading out bags we realize we don't want to be in the apartment with these maintenance workers doing whatever they're doing, so we head out to see some places of interest.
The only people Howie stops and chats with on the streets are girls (no surprise) and we have about 5 of these encounters in 2 blocks. He takes us down to the National Mall which is mobbed with sightseers. We attempt to walk up to check out Lincoln, but there are far too many people, and our tentative dinner plans are drawing closer. Knowing we don't have much time we start walking back to campus. Strangely, down on the Mall I saw three, count it, three people wearing Oregon State Beavers gear. I found this unusually interesting.
We walk back to The Slaughterhouse and change into what we've deemed as our "lucky" outfits. For me that consisted of blue, red, and white argyle socks, boxers with little wiener dogs on them, slacks, my Tom Morrow Coast-to-Coast shirt, my brown wristwatch, my MSH hockey bracelet, and of course my road BU jersey - all of these items are unwashed since the Hockey East semi-final game.
I take a deep breath, knowing that I'm about to encounter feelings, emotions, and nerves that I've never experienced in my life.
Howie D has the opportunity to join us in the Verizon Center, since my family acquired an extra ticket. He seems just as excited as Jesus and I do, which is odd since he's never seen a college hockey game in his life. This isn't really surprising. Before I came to BU I had only ever seen one Frozen Four game on ESPN in my senior year of high school.
We depart at around 4:45, with plans to meet the Hot Dog family at the Verizon Center, get some dinner, and roll back into the VC. Howie D leads us to the Metro station, which is conveniently located about a block from the Slaughterhouse.
The Metro Stations in DC are something special - they're all underground and they all look the same, with this kind of Greco-Roman ceiling architecture.
There are huge escalators that lead down into them. I thought to myself how hard it would be to try to run up one going the opposite way. It had to be at least 50 feet - that would be a work out right there.
We get our fare cards and walk down to the Foggy Botton stop, headed to Metro Centre. When we walk onto the platform we see a pack of about seven BU jerseys. Sure enough, it's our broomball team. We all scream in elation that we've made it to DC and are hours away from experiencing a Frozen Four game.
A 15-minute, crowded Metro ride later we arrive 5 blocks from the Verizon Center. It's still nice and sunny out so walking is not an issue at all.
Once we get to the Verizon Center the entire area is mobbed with people, most of whom are wearing hockey jerseys. Finding the Hot Dog family is a little difficult, but after a phone call, looking around, and then waiting 40 seconds to cross the street I get to see my family.
I'll say it right now, the Hot Dog's are a basketball family. We pride ourselves in our love of the basketball. Mr. HD especially loves Final Fours. I think he may be working on FF number 8 or 9. It's like that.
Don't get me wrong, we really enjoy all sports and my mom and dad are avid attendants and all the high school sporting events, but if you took a tally of all the sports we've been to basketball would be ahead of the pack by head and shoulders. I would be surprised if hockey had 1/5th of the tallies bball does.
Regardless, my parents knew the magnitude of these games and really wanted to see what a college hockey atmosphere would be like on this level, so they shelled out a 5-spot for 4 tickets in section 427. Even I was impressed.
After greeting them and we walk over to a Tex-Mex restaurant about one block away from the VC. By this point I am so nervous for the impending game I can hardly eat. I get a beer to try to loosen up but it doesn't really work. My chicken sandwich is only half eaten by the end of the meal and I'm working on controlling my breathing more so than my digestion.
Once everyone at the table finishes up we walk back to the VC and enter. The Hot Dogs and Howie D head up the escalators to section 427 while Jesus and I make our way to our ticketed section - 114.
We were fortunate enough to meet an alumnus of BU (class of 78) who helped us avoid the whole ticketing fiasco that Agganis forced onto the students. He was able to secure us two tickets next to him, which worked out beautifully for us.
As we're walking over we hear Howie D calling for us, telling us the Hot Dogs told him to sit with us for the time being.
We stroll into section 114 and find Al, our alumnus friend, who has been there from puck drop of the first game, which is tied at 0 right as the 2nd period was starting.
The seats are great and the arena is really breathtaking. I don't know what it is - I've been to a lot of stadiums and arenas that are comparable in capacity to the Verizon Center, but there's something about the place that makes it seem HUGE. The upper decks feel like they continue on forever into darkness and the building really feels alive.
I look to my right and see the Bemidji State fan section full of green and white and tons of signs. Most of which are poking fun at the fact no one really knows where Bemidji State is located.
The Miami fans across the arena are all standing and in mostly red.
As a fan of BU I was clearly pulling for the underdog. How could I not?
A band to my right starts playing and I look immediately - I knew that Bemidji State's band could not make it to the Frozen Four due to a prior engagement, so the Beavers borrowed the George Mason pep band. This band is one that, as I was told, was the best in the CAA. It certainly helps when the band legitimately dresses as a pimp:
Their band brings it. To me, they're no VCU, but I can see how they're so loved.
I'm really not paying so much attention to the BSU-MIAMI game, because well, I'm in awe of the arena and too nervous for BU's game.
I can tell you that by the end of the second period Miami had gained a lead and gotten it to 3-1. At that point I decide to go check out what the view from above looked like in section 427.
It's quite an adventure trying to get to the upper regions of the stadium, but I make it. I see tons of BU supporters I recognize, and some I don't on the way. One person who says "Hey" to me, I think is one of my COM professors. But, as I've mentioned, I'm in such a nervous state, I can't be sure.
I find the Hot Dog's and join them. The first thing I notice about section 427 was how dark it is up there. Not like dark, like evil, but how there was an absence of light. I mean, I think a lot of stuff that was rumored to go on in the 700 level at the Vet could've easily been pulled off in the 400s at the VC.
I watch most of the third with my family and talk about how none of us had ever heard of Bemidji before this tournament. My dad is insistent on knowing what the school's population was, to which my brother finds to be a little over 4,000 people.
They could tell how nervous I was, but knew there isn't anything they could do. This state would only be shook when the BU game was over.
With about 5 minutes to go in the first game I head back down to 114 to sit on my hands and wait for game 2.
Miami, of course, won 4-1, leaving one side of the championship bracket settled, with only one game to go. The big board at the VC said 60:00 and I let out a sigh of frustration. I mean, I knew it would be that long, but I don't want to have to wait an hour to see my team. I want it all, and I want it now.
It seems like more than half the arena clears out because the place looks empty as BU comes on the ice for warm ups. This doesn't really bother me since I know the place will be full again come puck drop, minus maybe the BSU section.
I see Chris Parks and the rest of the band taking the place of where the George Mason band just was in section 116. I notice that the band is only going to fill up, maybe, half the section. A light bulb goes off in my head. My roommates have found us, I know where a lot of other friends of mine are, and really, no one is together. We're spread out all over the arena.
I light jog over to BDCP and ask him about the empty seats in this slightly elevated section that probably fits 50-70 people. He says, "fill them in." I do a fist pump in my head and rush back over to Jesus and my roommates. I immediately text some of my friends, "come down next to band. There are seats." Just like that the section is filled and I have a comfortable position right next to the band and a great view of the entire ice - no blind spots.
I call my family and let them know that there are seats open next to Al. I have to break the bad news to him that Jesus and I are going to sit next to the band, to which he doesn't recieve too well. I felt bad leaving him after all he had done for us, but I'm only two sections away. The Hot Dogs join Al and all seems to be worked out.
Al is relentless though in calling my brother "cocktail weenie." I know that this is a contributing reason why my brother didn't choose BU as his college choice. I can't believe I'm revealing this, but "cocktail weenie" is going to BC next year :0 AHHHHHH!!!!1!
The wait until game time isn't so bad because I'm with the band and throwing out song suggestions to BDCP. Two of which - Hey Ya and Let It Rock. For whatever reason I want these two to be played tonight. In addition I'm with people I know and have loved being with at hockey games over my college career. One of whom, John Condakes,
whose voice cures cancer
, somehow snuck or sucked his way onto the MTBA Charlie Card.
Since Jesus and I have made it clear we carry a picture of him in our wallets, he does the same. Pictures are taken:
Manton, a face I haven't seen in far too long, comes down to visit Jesus and I, as seen in the picture above. He was the sole person to get us into being such hockey fans and what we are in the student section. Manton was a face and person I can't forget and whenever I see him at a hockey game, it instantly becomes a much better game. I can say this despite his fetish to force my face into his crotch, to which I have to begrudgingly accept:
BU has the honor of playing the National Anthem, during which, like always, I hold the America flag high over my head. Because of this, or because of BU playing such beautiful melodies, our little section of BU fans gets a lot of face time on the screen. It's an honor.
The game starts off with a bang and continues through the first period. BU has the commanding 2 goal lead going into the locker room. But as most of the people I know say - a two goal lead is the worst lead in hockey.
Typical Goal Celebration
That theory is quickly realized to be truth as Vermont poured on three unanswered goals. It becomes pretty clear that Kieran is not playing his best hockey and the team is slipping up. Moral is going down and I'm getting depressed, flirting with thoughts that all the money I've spent on this trip could be going to waste.
Luckily, Nick Bonino receives the puck on a powerplay with a minute and half left, and puts together some moves that don't seem fair, finding Vinny Saponari right in front of the net for the game tying goal. I feel like BU is lucky to head to the dressing room with the game tied, but I have no choice but to accept it.
The third period starts and it's back and forth, grind it out hockey. Lots of close calls in both ends. No one gets on the board until there is 11 minutes left, when a UVM defender scores his first collegiate goal on a powerplay shot from the point that Kieran can't find.
Again, I feel defeated. I have thoughts, once again, that I've wasted so much money coming to DC. I sigh, breathe, and look up to see there is still plenty of time left and just about anything can happen.
And something does happen four minutes later. Higgins carries the puck down the right side of the ice (from where I am) and throws it towards the net. To me, at first, it looked like J-Lo hit the puck in, but upon replay inspection, Higgy got a lot of help from a UVM defender. It's knotted at 4 with 6:54 to go. I'm beginning to like how this is going, but again, I know that the next goal is probably the winner.
Fortunately for us, it comes quickly and off the stick of Colin Wilson. He wins the faceoff to Higgy who immediately shoots it at net. Madore blocks it but right into C-Wils' stick. After that the rest is history. You can't give C-Wils something like that. He does his version of Ovechkin:
Goal. Bam. Victory. I think.
BU does an absolutely amazing job at holding the puck for the remainder of the game. UVM never really gets a good look or really brought it into the BU zone. It's a pretty anticlimactic ending to a very, very good hockey game.
Everyone in the BU section embraces knowing we are going to get to see one more hockey game, and that one hockey game will be the biggest anyone's ever seen. I'm elated at this point. My nervousness is gone and so is my voice.
That's alright though - BU is playing in the National Championship. I felt like doing jumping jacks, and I HATE JUMPING JACKS.
The BU band plays "The Song" for what seems like the 1,000th time of the season and everyone was more fired up than ever. One. More. Game.
After the game I walk down to the area where the BU alumni and parents are sitting. I spot Mrs. Yip, who spots both Jesus and I, and all scream in elation. You my girl, Mrs. Yip.
This is awesome. I'm on cloud nine – nothing can bring me down. I say goodbye to my parents and brother as they look at me unable to comprehend the emotions I personally felt that game. They know that the game was exhausting for me and know that there's only one thing I need to reenergize me: alcohol. Just kidding. No, but seriously, they know.
My family departs and Ned Brown and BU Today steps in to get some post game audio and Jesus and my thoughts. They were following us throughout the whole adventure as you can hear/see
here.
We explain that our minds are still blown that we're here. We huddle up with the other fans that BU Today is doing a piece on and take some pictures with the Verizon Center ice in the background. All this while the security guards repeatedly tell us, "alright one more picture then you gotta go." For some reason they want to get out of the Verizon Center. This type of mindset escapes me.
Jesus, Howie, and I all make it to the street. Even Howie, a GW Colonial, is jumping up and down with joy. Jesus and I are still wearing the costumes and Howie really wants some more entertainment. He asks us to continue to walk down the street, 5 blocks, to the Metro station in costume.
Being the attention whores we are we oblige and make the walk with some incredibly strange looks. The best was when we walked by a nightclub called UltraBar. It looks super sleak and totally 22nd century. The only people waiting outside are Hispanics and African Americans, so needless to say (even though I'm saying it) they freak-the-f-out when they see us.
"Yo Jesus, what up brother?" "What the f**k, is that a the hot dog?" "Yo, look at these crazy mother f***ers." And of course the loud, "ohhhhhh, sh*tttttt."
Hey-o, we laugh, give some waves and high-fives, take one or two pictures with people too drunk to understand what is going on around them or why there are two 20-some year olds dressed up in costumes in the middle of April.
We make it to the Metro station, unharmed, and rip off the suits. At this point Howie is enthralled by the looks and reactions we got on the street.
The Metro ride seems meaningless and incredibly quick. I don't think any of us are over the fact in two nights our team is playing for a Title of meaning.
All of us make it back to the GW campus where celebration begins. All of Howie's roommates are out all ready. Luckily we're all of legal celebrating age and hit the glorious George Washington bar scene that leads us to the Georgetown bar scene. Upon every BU-Vermont highlight that comes on any TV in any bar we're at we stop and admire in awe. Then we celebrate all over again like we don't know what had happened hours before.
Our crew makes it back to the Slaughterhouse still overjoyed at around 3 am. I'm up 6 hours later and getting ready to meet up with my family. I can't believe I just used the word "slaughterhouse" and the word "family" in consecutive sentences. Sigh.
Friday, April 10th, 2009
This day off from hockey is kind of strange. Jesus headed to Baltimore for the day to see some family. Howie was going back to Philadelphia to surprise his mom on her birthday, so I was basically on my own for the entirety of the day.
I started by meeting the Hot Dog fam at the Newseum, hands down, one of, if not the coolest museum I have ever been to.
I cabbed it along the mall all the way down to the museum where I was fascinated to see the front pages of a newspaper from every single state outside.
I called the fam and found them inside and we began to explore.
The Newseum is the museum of news and journalism. Being a TV major, this was the place for me. We started on the top floor and worked our way down. On the top floor, like outside, they have all the front pages displayed in addition to a digital format of each. My fam went through all the papers of all the teams at the Frozen Four. Out of all of them – Minnesota, Vermont, Ohio, and Massachusetts, BU was the only team that didn't make the front page. CRAZY!
The museum was amazing. It gives great history about journalism and has one of the better 9/11 exhibits I've ever seen. With the antenna from one of the twin towers and an incredibly moving 11-minute video documentary, it was hard to hold back some tears.
I mean, every person remembers exactly where he/she was and what he/she was doing when the news broke. I was in the tech-ed room at middle school. I had forgotten a pencil and needed it for my social studies class. I went into the class, grabbed it, then the announcement came over the loudspeaker. I ran back to social studies and the school watched the TV for the rest of the day.
Wow, that was a tangent, and a depressing one that. Anyways, if you have some spare time in DC I highly recommend the Newsuem. You could spend an entire day in there reading, and my family almost did. We finished the day off with the sports journalism theater, where they had a fascinating piece on Muhammed Ali. I was blown away by the way he spoke and handled himself. He reminded me of Terrell Owens, but not a total douche.
I grabbed some lunch with the fam and said goodbye. I thanked them for joining me at the best game I had seen all year and they thanked me for letting them enjoy the experience just as much. They went to their car, and I started to walk towards the Verizon Center.
It was right around 12:30, which was when BU was practicing. Up until this year I had never seen the Terrier team practice. Walking into the Verizon center I realized that this was going to be the third practice I would see this year.
I found a seat right at center ice, sat back, relaxed and enjoyed myself. I never played ice hockey while growing up, so I don't know any of the drills or what they work on. Whatever I'm seeing on the ice isn't equating to anything that could be used in games, at least for me.
The only thing I knew about was the shootouts, which was the most entertaining part. Every BU player got a shootout shot. If the player made it he stayed on, if it was missed the player was eliminated. Slowly the team widdled down until it's just Zach Cohen and John McCarthy. I'm so pumped to see Z out there. I want to stand up and just yell, "GO Z!!" but I know that would be out of place.
Unfortunately, probably because I didn't get up and yell, Z loses. The team starts to file off the ice. All around the tunnel there are screaming kids. They only want one thing: a stick. I'm in disbelief by this. A puck is one thing, but a stick, come on now.
Probably just gave his stick away
Surprisingly, some players give away their sticks. I'm shocked. It's funny to watch the player try to maneuver the stick around the railings and give it to the little kids, who have tons of trouble getting it out of the tunnel and into the seats. Regardless, that happened.
Pretty soon it was just the freshman working out with Coach Bavis. I get tired of this pretty quickly and head out to the closest Metro.
I make it back to the slaughterhouse where I kill time on the internet. Now, T's Pub used to have that great catchphrase: T's Pub: The Place To Meet. I gotta say the internet is the real place to meet. One place in particular in regards to BU hockey: the USCHO message board. That's the real place to meet. I check out the board and see everyone's reaction to the semifinal game.
Not surprisingly it's a flame war between some UVM people and a UML fan. I don't really care about this because it doesn't concern me, but the UML guy is pretty on in saying Milan didn't play his best game. That sums it up. That and the rest of the BU team was better than the UVM team.
After about 3 hours on the internet a game of Madden and some ESPN I see that it's 5 pm. The only thing on my to do list the rest of the day is the Hobey Baker ceremony. I should have been working on a 5-7 page paper, but you know, the motivation just wasn't there. How could it be? I'm not tryin' to think about Europe in the 19th century when I'm in DC during the Frozen Four weekend.
I head out of the slaughterhouse and hit up a place called PotBelly's. In addition to the Newseum Potbelly's is a place you should eat. It's like Quizno's on steroids. If it was a baseball player it would be Rafael Palmerio, not cause of the roids, but cause of the Viagra and everything. Potbelly's brings it and brings it hard (Viagra style). I discovered it while I did Model UN in high school, and I was glad to see it existed on the GW campus.
It was a beautiful day so I walk all 20-ish blocks to the Verizon Center. The highlight of the walk, beyond the sandwich is definitely the African American gentleman who was walking in front/behind/with me for the last 5-ish blocks.
This guy is something else. I am first introduced to him when I'm waiting to cross the street. All of a sudden I see this guy walk past me on the right straight into oncoming traffic. It's like this guy is the real black Jesus because he just walks right through – no cars really come close to him – he just walks all the way across the street.
I failed to mention he is drinking some cranberry-red drink and smoking a black and mild on this walk.
I swear, after every female he passes, who is walking opposite way, he continues to walk, but turns his head completely and tilts it as to check out the woman's rear end. He occasionally mumbles to himself in his either pleasure or displeasure in what he sees.
On some corners, where a woman is waiting to cross the street, the man will just look at the woman, kind of stare, then say the same thing each time, "you got a beautiful smile."
The woman usually responds, "oh, thank you." The gentleman says, "NO, thank you. Damn, you beautiful."
At this point the woman feels awkward and turns the other way. The gentleman continues his sex-driven walk. I stare on in amusement.
On my walk I notice two things about the city of DC, and try to tell me this isn't true: 1. It's very clean – there isn't much garbage on the sidewalks or the streets and 2. For as clean as it is there are a TON of homeless people. Way more than Boston, way more than Philadelphia. I don't know if there is any relation between how clean it is and the homeless, but I wouldn't be completely surprised.
I get to the Verizon Center only to see a man dressed in a bunny costume just dancing outside. To me this isn't out of the ordinary. You must remember what I wear to sporting events.
Upon entry there is a long, long line to get some autographs from the entire BU team. I think about it for a second and decide not to get any. I don't need it, I convince myself. After I find prime seats facing the Hobey ceremony and sitting there for a while I come to realization that I should get some autographs. I don't know when I could use it, but a sheet with the player's signatures I had watched all year would be cool to have.
I walk to the line and wait. Immediately I'm informed that there is a chance they will shut down the autographs before I get to the players because of the Hobey ceremony. I say, "okay, whatever."
The line moves quickly because right outside, and to my left, I get to watch that bunny just dance and take pictures with people. I think to myself, this really is amazing. People love people in costumes. Anything out of the ordinary, people respond to. This bunny was getting plenty of attention – people were filming him, taking pictures of him, hugging him, high-fiving him. It's sweet.
I make the cutoff and grab a sheet of fancy Frozen Four paper. Gryba is the second Terrier in the line of players. I had a strange request, which he obliged to, sign the back of sheet as big as he can. His signature is still the only one on the back of the sheet.
I go through the line, some players recognize me (out of costume), some don't. All in all I'm happy to own something with all their names on it together.
Jesus shows up, straight from Baltimore and we find our seats, which are conveniently located behind the BU team.
The Hockey Humanitarian Award presentation is first, which was going to a Northeastern Huskies woman's player, Missy Elumba.
Now pardon me, Elumba did some great work and some great Humanitarian work, but I don't know if I have ever heard a worse acceptance speech. Now I understand she is religious, but she really, really sucked off religion for a good 7 minutes. After a minute I got the point, but she went off about God, Jesus, Christianity, and everything in between. I was raised Roman Catholic, so I understand where she is coming from, but Gilroy sure didn't felate God in his speech. I wasn't looking for this girl to do such a thing. I know she's passionate about Christ and I'm all for that, but, it could've been way better.
Regardless, she got her award and got off. I was then subject to an ESPN broadcast style award ceremony. Rather interesting as ESPN presented the 3 finalists of the Hobey Award to an audience who seemingly doesn't know anything about hockey.
They present Gilroy, Theissen, and then Wilson in that order. I really only learn one thing:
Theissen has a blog
, and it is pure gold. Countless hours of entertainment for you right there.
Wilson's mom was a regular comedian talking about the flooding going on back in Winnipeg.
Matty Gilroy was poised as always and his Mom and Dad are so cute together. That's a weird thing for a guy to say, but you really can't disagree with me on that.
It was fun to be in the background when the camera would go to the team. Jesus and I would both raise our arms and attempt to high-five, but usually we would get cut off just before high-five was completed.
I think most people knew it was Gilroy's to win, and rightfully so. It was great to watch him and his family and his career culminate at that point. I wanted him to win. Despite holding the "Wilson for Hobey" sign since game 1 of the season, at that point, Gilroy was hands down the most deserving.
After the ceremony the BU hockey team headed out. The ice was cleared by like 25 workers and the players in the skills competition began warming up.
I was expecting the skills competition to be totally awesome. Just action non-stop, possibly some hits. NO.
It wasn't. Dare I say the highlight is boo-ing both BC players Brock Bradford and Andrew Orpik? It might be.
The competition is the puck control relay, the speed skate (which I almost fall asleep during), the hardest shot, rapid fire shooting, accuracy shooting, and then the penalty shot.
I mean, I am bored. It was a bit of a buzzkill. There isn't one "wow" penalty shot. There isn't really one "wow" moment during the entire thing.
The skills competition did answer one question: during Thursday's game I noticed a lot of taller people walking around in full gray NCAA jumpsuits. I realize now at the Skills competition that those well-clothed people were the lucky few chosen to be in DC without their team.
Jesus and I leave right as the competition ends and discuss what this weekend must be like for the participants. Like, you don't know anyone too well there, you have to probably room with someone from another team who you've never really interacted with before. Do you keep practicing by yourself after your season ends if you know you're coming to the competition? So many unanswered questions.
Before we go back to our current place of residence I tell Jesus he has to check out Potbelly's. I eat my second "The Wreck" in a day and Jesus agrees that place brings it.
But seriously, they're watching The Patriot, so it's cool. That's totally a BA movie, so they're totally BA too.
No, but seriously, they're good dudes. Not like the frat guys at GW North (BU). They have morals and dignity in the south.
Jesus and I don't let this stop us from exploring DC. We call up another one of our high school friends who goes to GW and decide to hit up an area called Adam's Morgan – the hot spot of DC bars.
Adam's Morgan reminds me of a little more well-off, more exciting Allston. We go from bar to bar and experience different beers and feels of bars. We run into the occasional Bemidji State fans who still wear their gear and get more plastered than anyone else in the bar.
After about 3 hours of bar hopping we head back to the GW campus where we hit up the closest bars last call. After a pit stop at 7-11 (2 hot dogs for $2 – you can't beat that!) our friend leads us down to the Washington Mall, which is literally right across from his apartment.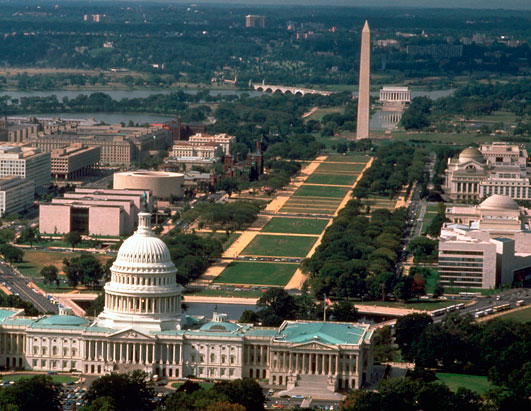 We start at the World War II memorial, which I have never seen before. Upon arrival there is exactly one homeless person fishing out pennies in the water/fountain area. Hey, if you're gonna do that, I guess there's no better time than in the middle of the night.
Jesus, our friend, and I walk along the mall and it's a great night. Good temperature, good visibility, good buzz going – just a pleasant night. I'm at ease, not tense about tomorrow night's game.
We make it to the Lincoln Memorial and climb up the steps. I'm in awe – it's just open, anyone can come up to the Memorial and just chill whenever he/she wants. It was at this point when I started to think how cool it would be to go to GW or a school in DC. Then I realize there isn't hockey down here on the college level, and I would never get to experience some sort of championship hockey run.
After minutes of deep introspective thinking we depart. Jesus and I go back to the slaughterhouse and our friend heads to his apartment. I'm content and ready to get plenty of rest for what will be the most exhausting game of my life the next day.
Saturday, April 11th, 2009
I wake up at 12:30 pm, which is only kind of late. Jesus and I both get our stuff together and revisit Potbelly's and Dunkin Donuts. We go to the GW student union area and get woken up with some iced coffee. Strangely, we see two other kids in BU jerseys. Another girl, who must go to GW, asks us what we are doing there in BU jerseys. We explain to her the magnitude of our visit, but it's not as big of a deal for her.
We eat, drink, and roll out. Where are we going? The Verizon Center of course. On Thursday we found out there is an open skate from 1 pm – 3 pm I believe. Our roommates and other friends are already there and telling us the skates are running out quickly.
Upon arrival we both line up in our respective skate sizes, which I don't know how to judge, so I just go with my shoe size.
We arrive a little to close to the cut off, but the people running it still let us get in line. Jesus gets skates, but I get shut out. For whatever reason Jesus gives his skates off to me and lets me partake in the open skate. I try to make sure that he's completely okay with it, but it's clear I'm more wanting to skate than Jesus is.
I put them on and then walk from the bowels of the VC to the side of the rink. While waiting to get on I say, "hey, I should wear the hot dog!" I run back to the lounge-type area and put on the costume.
Once I hit the ice I look absurd, although, I know that if I fall I'll be nicely cushioned on the way down. The people running the whole thing all continue to skate over to me and ask me why I'm wearing the costume. At this point I have no explanation.
Another security person who is skating, if you can call them that, approached me after I Ovechkin-ed into the glass. Apparently, if you don't play hockey, you can't jump into the glass like that.
My friends and I get some pictures at center ice, around the boards, and of course, me kissing the ice. Another female fan and her daughter saw me on Thursday night and told me how much they've enjoyed the season and the Jesus and Hot Dog. Before I went onto the ice I saw them coming off. The woman told me I needed to kiss the center logo for good luck, because her daughter did too. I didn't want to let this woman down, so mission accomplished.
Our group had about 15 minutes on the ice. At around minute 7 one of my roommates, who we'll call Feet, who played hockey in high school and throughout his life was pulling another one of my friends, Heather. She's not a good skater, and he knows what he's doing.
Heather pre-accident
I'm kind of skating beside them and tell Feet, "hey, throw her in to the boards!" He of course fakes like he's going to whip her around him and just toss her right into the glass.
As you can see, I can see what's coming
Unfortunately, on one of these fake attempts Feet goes a little too far and ends up nearly bumping into a Bemidji State fan. He stops short, while going backwards, trying to avoid this girl and ends up going down, taking Heather with him. They land hard and I can tell Feet is fine, it's just Heather who is down and not getting up.
Our group of friends pretty much all say, "Oh no," this might mess up plans for the rest of the evening.
I continue to skate around, but watch all that is going on where Heather is down. She seems like she'll make it, but there is a kind of troubled attitude among all of us. They bring the stretcher out, take off Heather's skates, and assist her on to it.
The staff must bring her to the hospital because she couldn't get onto the stretcher on her own. That's some messed up rules. She is shoeless, strapped into the stretcher, immobile, and holding all my friends tickets in her purse.
They take her to the GW medical hospital on the stretcher as we watch on from the lounge area. She is actually fine – she knows this, we know this, the staff knows this. But to be safe, they have to take her for evaluation.
It's like Heather blessed the ice, because exactly where she went down like a ragdoll, hours later, Colby Cohen would win a National Championship from that spot.
Once outside, after laughing off the situation a little, everyone who wasn't Hot Dog and Jesus went to the hospital to rescue Heather. With hours to kill until we could get into the game Jesus and I went to the BU pregame party.
We figured out where it was and joined in the sea of Red and White. Both of us were pretty nervous – not for Heather, but for the upcoming game. The answer, as it is to most of life's toughest questions – alcohol. We split a pitcher and before we knew it we felt a lot better than we had.
After the pitcher, and being bought a drink by last year's hockey team manager, and reminiscing with some of the BU hockey community, we worked our way outside where there was a lot more people our age drinking to excess.
We shoot the breeze with a lot of them and then all of a sudden the BU band is setting up shop before our eyes. It's great.
People who aren't even associated with BU are stopping on the street to watch and listen to the band. They are jamming out and everyone is getting pumped. Everyone is doing cheers, everyone is amped to get this thing going.
At 5:15 Jesus and I roll out. We can't get into the Verizon Center until 5:30, but we want to get there as soon as we can to assure ourselves seats where we were last game – right next to the band.
On the way to the game I run into our favorite alumni, Al, the one who hooked us up with the tickets. He shows me the check list he's been carrying, which has listed every title, accomplishment, award BU could win this year – the only one missing was a National Championship. Al then whips out a cigar holder, which I think is holding a victory cigar. Instead it's a sharpie, the pen that will finish off the list. I like the optimism.
Once we get into the entrance way to the VC we have to wait in the long, wrapping line, of fans of every team to get in. Both Jesus and I can't figure out what we want to get in for more – to get seats or to go to the bathroom.
After about 15 minutes of waiting, which seem like forever, we're admitted in, and sprint to section 116 to set up shop next to the band.
Once we settle we take turns going to the bathroom, while waiting for the rest of our friends and crew. We have a while to kill and we know this.
The BU players are sitting on the bench wearing the "Burn the Boats" shirts and wrapping their sticks. I began to wonder what they were thinking right now, if they were nervous, and most of all, what those shirts meant.
I knew that I would be finding out, win or lose, what the shirts stood for after the game, but I still had to wonder what the message was.
I got food, I peed, I socialized with BU fans of every age. I began to mentally and physically prepare myself for the game.
It may sound stupid but I felt like I needed to prepare just as much as the team. That's a lie, not as much as the team, but I had to get myself ready. There hadn't ever been a game I cared more about in my life. Sure the Phillis winning it all was unreal, but that wasn't really stressful, just because of the way Game 5 was played.
This was different. This was one and done, and in hockey that is a terrible, terrible way to handle it.
Of course, before puck drop, things just ran together. The atmosphere kind of reminded me of Red Hot Hockey, not because of the magnitude of the game, but because the arena was dominated by red and white, and the majority of the people there, who weren't from BU or Miami were pulling for the Redhawks.
Even during the National Anthem when "red" was sung, about half the crowd yelled, "red."
It's grueling hockey right from the start. Back and forth action – to me BU seems better, but Miami is really bringing it, especially with the physical aspect of the game. They were hitting much more than Vermont was and I think that was effecting the play. What the hell do I know.
Connolly is the first to get on the board on a great rebound put back. BU faithful has to feel good about that one. I'm feeling great at this point.
After one period Jesus and I interview with BU Today.
I tell them I feel good and winning a National Championship is as easy as playing defense and not letting the puck hit the back of the net. It's really not that easy though.
We're obviously happy with the way the game is going right now
We take some more pictures,
get interviewed by Puck Daddy
who can't get enough of us, and I even get into it with t=he woman and her daughter about kissing the ice. We agree it's a good luck charm. So I thought...
That's proven 2 minutes in when Miami evens it up. It's a cluster-f in front of the net and somehow Miami sticks find the puck, which in turn finds the back of the net. It's a whole new game and the nerves run high.
Back and forth for the rest of the second, which makes it super tense, come the start of the third.
The pacing back and forth in the concourse during intermission doesn't do anything. Jesus gets an iced coffee from Dunkin D's. I still haven't eaten the turkey sandwich that I got before the game even started, so I know that I will just be wasting money if I buy a coffee. I think the pacing will settle my nerves but it really has no effect.
3rd period action begins and to say I'm nervous doesn't capture the true feeling I have.
7 minutes in Miami strikes first with another put back goal, this time by Tommy Wingels. At that point it was like Vermont all over – no one in the building seemed to lose any faith in the Terriers. I didn't.
However after the third Miami goal, which came just 3 minutes later, I began to. It was crushing. A BU turnover in their own end turned into a shot from the point from Trent Vogelhuber, which beat Milan. In retrospect these goals are completely forgotten by everyone who was there, and everyone who was watching on TV.
I was defeated. I put he hot dog top on, and I only do that when things are bad, when I don't want to be seen, looked at, or for my emotions to be on display. Cheering was tough.
I thought, did this team really just get all this way only to be stopped so close? Did they accomplish all these great accolades to have them not really matter in the end? Then I got to thinking, what if I just walked out? What if I couldn't take it anymore and just headed towards the exit? What if?
In the midst of all my what if's Parker called Milan to the bench for the last 3-ish minutes. I'm thinking, well, this is definitely it. It being the end.
It's tough to think about. A terrible reality, really. It just didn't seem fair – all the cards were in place before the game started, and even through the first period. Just not fair.
Then something happened. Looking back on it there was something afoot – something in the air, something in the arena it was something. I can't even tell you exactly what it was but the team felt it, the BU fans felt it, even I felt it. It was confidence, it was hope, it was knowing that 3 minutes can actually be a lifetime.
However, it wasn't until the last possible minute that heroes were made.
You know what happened:
The feelings were unreal. Emotionally distraught, shaking, with an amazing sense of hope after Z's goal. If they could get one they could certainly get two.
And they did. After two really good chances – one from J-Lo and one from Bonino, the third one was the charm. Again, you better know what happened:
There was nothing like the goal celebration on that one. It was tackle whoever is next to you and go crazy. It was insane. I was underneath everyone, getting crushed against the seats. I really didn't want to die via goal celebration so I freed myself with all my might.
I look up to check to make sure this is reality and sure enough it is. This is unreal. That's the only word that actually encompasses my life at that moment – unreal.
There was a scare with a second to go as Kieran bobbled the puck to the left of the net. Tense moment averted BU headed to the locker room with one goal separating them and the National Title. I headed to the concourse hallway in hopes to calm down, not throw up, and not cry.
Only one of those was achieved – the not throw up part. I couldn't calm down once I got outside. There was an eerie sense of disbelief among everyone. It wasn't overly loud and there wasn't too much talking. It was bizarre. I saw Jack Parker's secretary walking through the hallway with tears in her eyes. That got me as I tried to hold mine back. Such an emotionally powerful moment will do that to people.
It was back and forth but the overall feel was domination on BU's part. It seemed like they weren't going to lose this. They had come this far, and they weren't going to go down now.
BU had many opportunities and plenty of looks. Out of all of these good looks, none of them found the net. One did though. It wasn't the prettiest way to win, but it was a way, and from exactly where Heather had gone down about 8 hours before the game winning moment.
During the next shift the BU band finally played a song I had been requesting the entire trip: "Let It Rock."
For whatever reason I decided I liked the song about a week before the trip. Since it's fresh I wanted the band to play it. BDCP would always say, okay I will, but then not do it. I guess they were running low on songs because it took them 11-ish minutes to play it into the OT. And sure enough BU let it rock.
I don't know if anyone in attendance could actually follow the puck in. All I saw was a shot, and then reaction. I was immediately buried again in celebration and immediately crushed. I got people off of me because I wanted to see the celebration that was going on. I wanted to see the team jump all over each other in absolute jubilation, while I did the same thing in the stands.
It was amazing. So amazing. I don't know that a moment in my life can ever achieve a level like that.
At this point my headband was lost in celebration, as was Jesus' beard and wig. It really didn't matter at all though.
There were cheers and chants a plenty as everyone watched the boys celebrate, then line up, and shake hands in that order. I whipped out the "That Just Happened" sign because that actually just happened.
Colby Cohen was about to get interviewed on ESPN but decided at the last possible second he was going to go shake hands instead. Whatever, he wont the National Championship, I guess he can do what he wants.
I was staying put in my seat, standing of course. I wanted to soak it all in. I wanted to admire the red and white banners all around the sidings of the arena that read, "National Champions." I wanted to watch each player in how they acted, who they hugged, and who they might be looking at in the stands.
After Parker shook hands with the Redhawks he made his way towards the BU side of the arena and raised his arms in joy. It seemed like he pointed at Jesus and I, but that's just me being silly.
Everyone in attendance admired as the team got the trophy and held it to the crowd. Some took pictures with it, some kissed it, some just held it. No matter what each player did once he got the piece of hardware, it seemed special.
Men's college hockey has the longest season from start to finish. While most if not all college sports require the full year worth of practice and work, hockey starts in October and doesn't end until April. That's pretty much the entire year.
It's a long season and one that is no doubt grueling. To have the players win it after all the games they played, everything they won, it was special.
Luke's eyes freak me out
It was special to be a part of it all.
As soon as the game ended a wave of texts flew in. Friends from school, from other schools, from everywhere, all saying things along the lines of, "wow, congrats."
Funny thing is, I didn't even play!
There were more pictures to come. I still had my gear on and everyone who supported the Terriers was riding high. We were all extremely friendly and I was more than willing to do just about anything any of them wanted.
My joy can be seen in this photo with Jesus (out of costume) and the Assistant Dean, Darryl Deluca:
I look like a 12-year old boy!
After waiting in line for a championship t-shirt or hat, and giving up on it, Jesus and I started to head back to GW. We wanted and needed to drop our gear off and head to the post game celebration.
The streets were filled in Terriers rejoicing, high-fiving, and just being those happy assholes you hate when you're not happy.
After a Metro ride and spring to the New Dorm Jesus and I dropped our stuff off, ripped some victory shots, and headed to the Mayflower hotel where the team was and the post game celebration.
We arrived downtown and asked some people to direct us the right way. Once we got into the Mayflower lobby it was just a sea of red and white. We, of course, were also in jerseys so we felt right at home.
Tons of people I knew. Fans, friends, players, administrators. Everyone. It was an overjoyed atmosphere. Like two nights previous, whenever there was a highlight from the game on TV people would stop and admire what had just happened.
Jesus and I were able to make rounds to people we knew and some we met for the first time – like Mr. and Mrs. Milan who said they were happy the game was on ESPN because their friends from home could finally watch Kieran play. We made sure to thank the captains John McCarthy and Matt Gilroy:
Jesus gave him some career advice, which he actually almost listened to: sign with the Flyers. So close yet so far.
Then, somehow, Jesus and I found ourselves talking to Mr. and Mrs. Gryba. We saw Eric as soon as we got there and he had shaved already. However, he wasn't anywhere to be found later, and instead we got into it (in a great way) with Mr. Gryba. This means that I believe I have now met the entire Gryba family, his sisters included, and I must say, if I had to be adopted by any one family it would have to be the Gryba's.
The Gryba sisters and yours truly
We learned that Eric was a nasty basketball and football player in middle school and into high school. He just settled on hockey after his parents requested him to pick. Also, I had to ask if Gryba has always been the last player to leave the ice. Mr. Gryba said yep, that's just part of who he is. He told me that at a young age Eric was told to always give out autographs for whoever ask, because of a bad experience the Gryba's had at an Edmonton Oilers game.
We all got to talking about Eric's future in the NHL, how his parents want him to graduate, and how much he enjoys all the cheering and chanting directed towards him. Jesus and I made it clear to Mr. Gryba he's a fan favorite.
Mrs. Gryba was just wonderful. Very happy to meet us and very happy about the result of the game.
Finally, we also found out what Mr. Gryba really thinks about some members of the team. Wouldn't you like to know!?
To end it all Mr. Gryba opened up a bottle using another bottle. He just sealed it for me with that – he is the most badass dad, and hands down coolest, on the team. I know Mr. Wilson introduced himself to me in a game earlier in the season, but I didn't see him open any bottle using another bottle! That was crazy.
The alcohol kept flowing and more and more people started to disperse. Jesus and I had showed up too late to real Parker and the National Trophy. We did get to hang out wit the cardboard cut out version, with the Beanpot.
Jesus and I decided to head out to another bar and celebrate some more with BU band members. What? Oh, why yes, of course Flute Guy was there. We got our drink on, I rudely informed people on why I was wearing a hockey jersey that said Boston when they asked. I lived it in. This was a highlight of my life and I wanted to soak it in as best I could.
The night ended and Jesus and I made our way back to GW via cab. We fell asleep at God knows what hour and had to wake up pre-9 am to make it to the bus that was leaving at 10:30. As soon as we found seats I passed out and slept until we hit up Burger King on the return trip. I nourished myself with some food of only the highest standards and the bus continued on its way.
I'd say we got back to Boston at around 7 pm. Once Jesus and I got back to our apartment what do you think the first thing we did was?
You got it. Watch it all again and relive this moment.
Thanks for sharing this moment with me. It's been special and got me all happy on the insides. And thanks to Olo/Candycanes99 for the youtube vids.
First the Phillies, now this? In the words of KG, once again: